The Lobel family of Lobel's Prime Meats in Manhattan and Lobel's of New York online butcher shop are fourth- and fifth-generation butchers. With our Cut of the Month series, we will bring you their wealth of knowledge and expertise on specific cuts of meat, including their unique characteristics, preparation methods, and how to select the best cut.
Bone-in and boneless strip steaks are among our most popular steaks during grilling season. Fine marbling, hearty flavor, and toothsome texture make this steak a customer favorite.
Since Grilling Season is in full swing, we've selected strip steak for this month's Cut of the Month.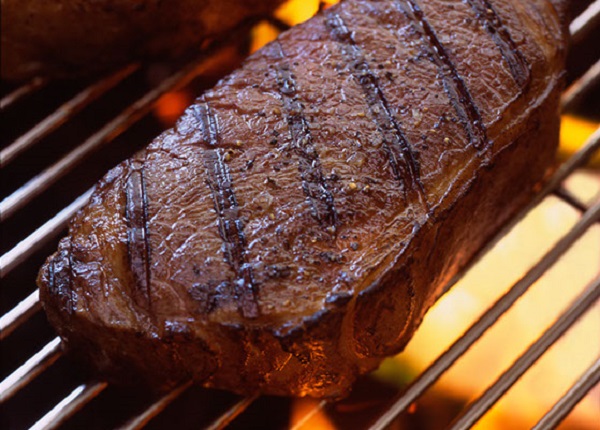 A Steak by Any Other Name
When the tenderloin is removed from the short loin, that remaining meat can then be cut into individual steaks. These are strip steaks.
For this reason, a bone-in strip steak is easily identifiable in the meat market: It looks exactly like a Porterhouse or T-bone but without the tenderloin portion and with the bone trimmed to an L-shape on two sides of the steak.
Strip steaks can be cut to any thickness, though most are from 1 to 2 1/2 inches thick. Lobel's of New York even offers a massive 30-ounce Dry-Aged Boneless Double Strip Steak for Two.
However, just about everyone calls these popular steaks by different names. In addition to "strip steak" they are also called boneless top loin steaks, sirloin, or shell steaks. The term "shell steak" evolved because they are cut from the meat that encases the tenderloin.
The tasty strip steak is known by some regional names as well: New York strip and Kansas City strip. To some, New York strip is always boneless and Kansas City strip is always bone-in−but not to everyone. And some would argue that a Delmonico steak−named for the famous New York City restaurant−is also a strip, though many contend that it's a referring to a rib steak instead.
And internationally strip steak is known as a club steak.
What you CAN always call it is delicious.
Bone-In or Boneless
As with most steaks, some people prefer to leave the bone in a steak for the added flavor it imparts during cooking. However, without the bone, a strip steak is less heavy on the plate and easier to cut. Bone-in or boneless is purely a matter of preference.
When a shell steak is aged on the bone for more than four weeks, however, we do suggest that you remove the bone before cooking to avoid a strong, aged flavor. Of course, some people like this flavor and seek our dry-aged strip steak on the bone for just this reason.
Compared to other cuts, the strip steak has a firmer texture and bolder beef flavor than a filet mignon or the eye of a rib steak. Fine-grain texture characterizes a strip steak and a Prime grade strip will have abundant marbling making each bite of the steak tender with a juicy explosion.
Strip Steak Recipes
A strip steak can be prepared in the same manner as any other steak. It is fantastic when grilled. Try it using our simple, master technique for grilling the perfect steak.
Grilling Recipes
Grilled Strip Steak for Two with Maître d´Hôtel Butter
Pan Searing / Pan Roasting Recipes
New York Strip Steak with Horseradish-Mint Glaze
What's your favorite way to prepare strip steak? Do you prefer boneless or bone-in? What do you call strip steak: New York strip, Kansas City strip, shell steak?