If you love food, you have to watch this YouTube video. It's about the making of the best paella in the world—or so the title claims. By the end, no doubt, you will believe every word is true. And if this doesn't leave you weak in the knees and salivating or make you want to catch the next Iberia airliner to Spain, you surely have ice water in your veins.
And if you love to cook, especially over wood, smoke, and flame, this video will inspire you. It will drive you to recreate this smoky, savory marriage of meat, seafood, rice, and the world's most expensive spice into a stew of drama and exploding flavors—in your own backyard.
The video is of Ayo, chef and owner of his namesake restaurant, Chiringuito de Ayo, located on La Playa Burriana on the Costa del Sol in Spain. Ayo, the video notes, has been making 4 to 5 huge paella dishes every day for more than 30 years at his beachside "snack bar." Ayo's dig-right-in approach with flames lapping at the edges of the simmering dish contrasts sharply with the tentative attempts of the video's unidentified host to stir the massive undertaking.
This video is a blueprint of paella-making technique rather than a specific recipe.
This version of paella is called mixta which blends meats and seafood. It begins with olive oil and garlic to brown such base meats as chicken and ham, with the later addition of vegetables and spices. Next comes the rice and broth. Seafood, including fish, shrimp, squid, or mussels, and chorizo sausage are added last as the dish simmers until the rice has plumped and softened and is ready to serve.
Its origins go back to mid-19th century Spanish city of Valencia. In addition to saffron, one of the characteristic ingredients in authentic paella is the use of bomba rice.
Bomba rice comes from the Calasparra region of Spain. It is preferred for paella because it absorbs 3 times its own volume in stock, compared to 2 times for most other rice strains.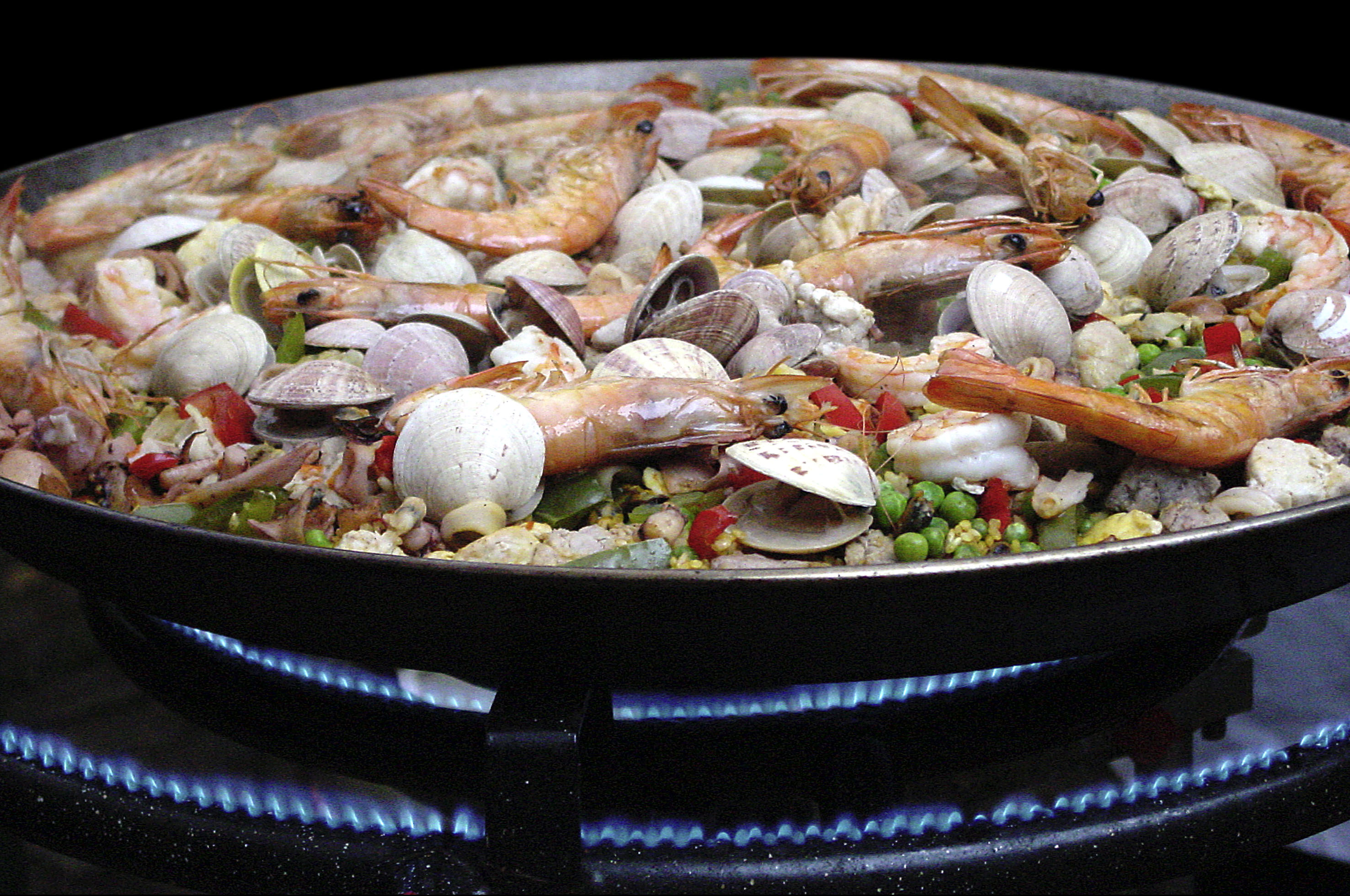 Paella Pans
As with a Korean bulgogi or an Argentine parrilla, paella bears the same name as the vessel in which it is cooked.
The biggest paella pans can go up to 4 1/2 feet in diameter and are used with a long-handled spatula and a specially built stand that sits over a hardwood fire. However, it is possible to replicate this method on a home-sized scale using a 22-inch Weber charcoal grill and a 17-inch paella pan.
The most traditional paella pans are made of carbon steel with hammered and dimpled bottoms. Carbon steel is to paella what cast iron is to fried chicken. This type, many would argue, produces the best tasting paella. The pan is relatively light and responds well to sudden changes in heat. This is also the type you can use on a grill. Do not try to use a pan that is enameled or has non-steel handles or handle coatings. A wood fire can get very hot and would crack enamel and melt rubberized handles. Besides, once you fit the paella pan into the grill, it won't be necessary move the pan through the entire cooking process.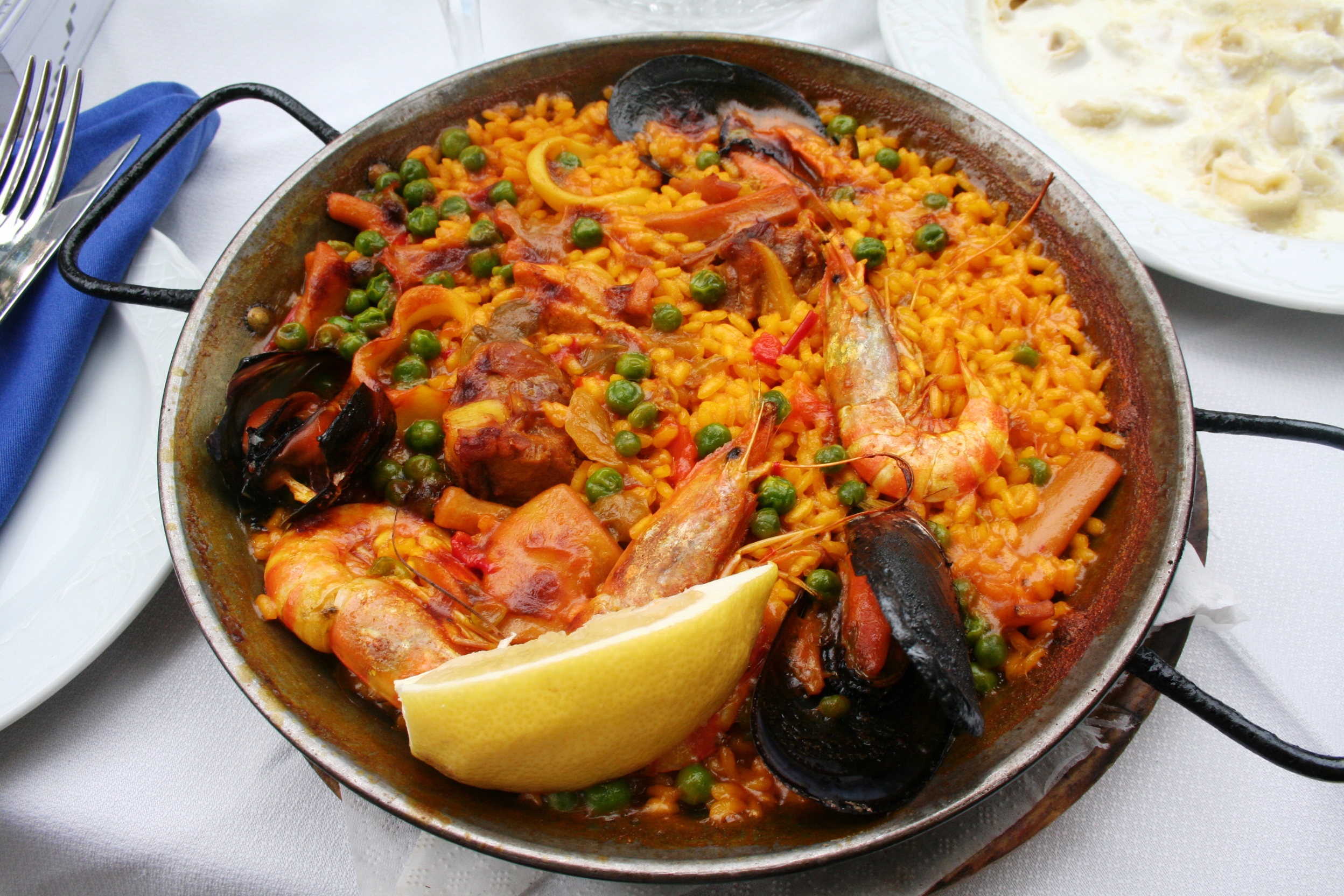 What's So Special About Saffron?
Less than 1/2 gram of the finest saffron threads can run more than $60.00. On the other hand, a little goes a long way. Saffron has a pervasive way about it—changing the rice to be golden hued and infusing its unique flavor.
Why is saffron so expensive? Cultivated for nearly 3,000 years, saffron originated in Greece and is now grown in various areas around the world, largely in the Middle and Far East. Saffron threads are the stigma from the saffron crocus. A single bloom yields only three stigmas, and those precious few have to be hand-plucked. It takes about 500 stigmas, or 166 crocus flowers, to make 1 gram of saffron.
Tips for Paella on The Grill
Just about any paella recipe can be adapted to the grill because the technique is the same.
Cook the paella over direct heat. Distribute the coals as evenly as possible to avoid hot spots.
For authenticity, use wood chunks that yield a comparatively mild smokiness. Oak, apple, or pecan are better choices than the heavy smoke from hickory or mesquite.
Be very careful. If you use hardwood logs or chunks to fuel your fire, the heat from the grill can be more than 600oF and produce considerable flame. So be sure have a set of heavy, heat-resistant gloves at the ready. Foundry gloves are ideal.
Make sure that you have extra stock—regardless of what a given recipe calls for. Most likely your fire will create hot spots that will evaporate the stock at a faster pace than it can be absorbed by the rice. Add stock to these hot spots, and stir the entire dish frequently to prevent sticking.
As the rice cooks, some will stick to the bottom of the pan and create a toasted layer that is considered a delicacy and flakes off in lacy wafers. The Spanish call this socarrat. Essentially, this is what the French call fond—the browned bits that are often deglazed with water, stock, or wine. As the French say: Fond is flavor. So don't you dare leave the socarrat in the bottom of the pan until you scour it out with a Brillo pad.
Whereas Ayo doesn't use a cover, you can use the lid of your kettle grill and the vents to regulate the heat once the rice and stock are added to produce a fast simmer, rather than a constantly roaring blaze. Also, covering the paella as it cooks will trap the smoke for extra flavor and help to steam the rice.
Have you ever made paella? Do you cook on the stovetop or on the grill? How big is your paella pan? Or do you prefer to order paella at a restaurant? What's the best place to get great paella?