We think one of the best ways to capture the holiday spirit is to throw a party.
It's your opportunity to shine—literally. Your home dressed to the nines, punctuated with the aromas and sights of the season.  The candles, the colors, the lights, swags of pine outlining your windows and banisters, and the sounds of carols on the speakers transform your home into a holiday wonderland.
What better way to rejoice than with family, friends, neighbors, and work associates than gathering together for the comfort of the hearth and a splendid array of special holiday foods and treats.  As a host, take a bow for creating an atmosphere of celebration and cordiality—and for making so many so happy.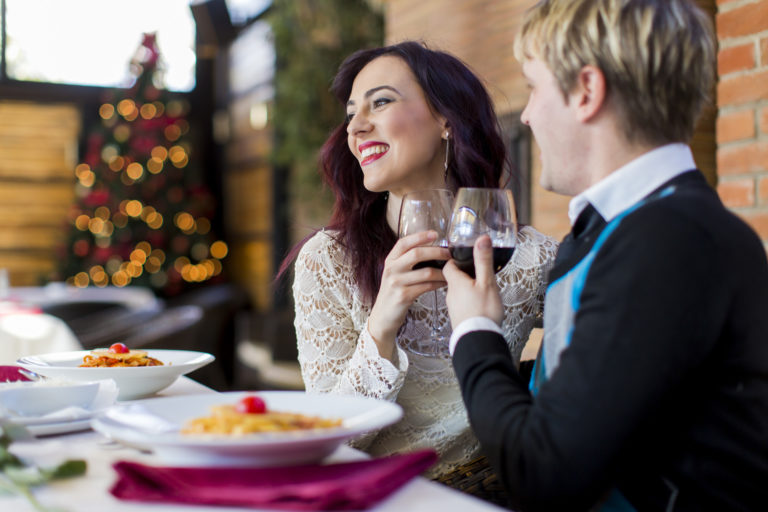 Whether your plans are for a casual or formal affair or something in between, we've got some holiday hints, suggestions, and menu recommendations to make your gathering an unqualified and delicious success.
Elegant & Opulent: The Classic Dinner Party
No other time of year can top the festivity of the December holidays. Whether you're celebrating Christmas, Hanukkah, or New Year's Eve—nothing compares to the ambiance of this time of year with the lights, the music, and the opulent parties. And no other type of party is more classically elegant than a sit-down dinner party.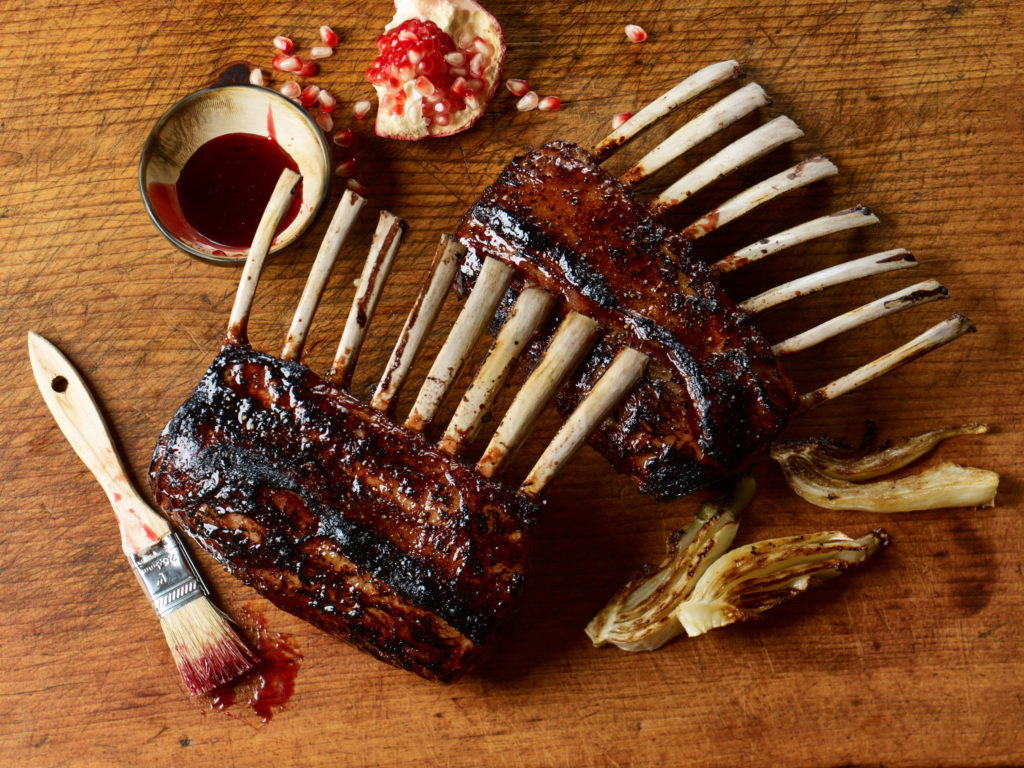 Frenched Rack of Lamb
Frenched Rack of Lamb is a sophisticated roast that makes a beautiful presentation and is easy to carve. This delicate, all-natural roast is at its best when roasted simply and served medium-rare.
Crown Roast of Lamb
The Triple Crown Roast of Lamb is a limited-availability, holiday-only item. It consists of three eight-bone Frenched racks of lamb, expertly joined together to form the perfect centerpiece to an elegant holiday meal.
Dry-Aged Rib Roast
The most desirable of all beef roasts happens to be Lobel's signature roast. A traditional choice for festive occasions, these well-aged roasts are impressive in presentation and a delight on the palate—exquisitely flavorful and tender.
Berkshire Crown Roast of Pork
Our Berkshire Crown Roast of Pork is the very essence of drama at the dinner table. Two pork racks are expertly joined into a circle for filling with your favorite stuffing. Each rib is Frenched by hand to expose the tip of each bone, creating an eye-catching presentation. When roasted and served, this crown of golden brown will punctuate the ambiance of any celebratory occasion.
Surf &Turf
Surf & Turf is a grand meal. It's synonymous with celebration, special occasions, and pulling out all the stops. It's not one of those meals you have just any day of the week. And with a Lobel's steak accompanied by one of our Maine Lobster Tails, you've got the very best that land and sea have to offer.
Crowd-Pleasing Favorites: On the Buffet
For a large party or an open-house style gathering, a buffet might be more convenient than a sit-down dinner. We have several options in our Butcher Shop that lend themselves wonderfully to buffet carving stations or platters of single-serving portions.
Ready-Made Kabobs
Lobel's Ready-Made Kabobs are not just meat cut into cubes. They're hand-cut into cubes, then threaded onto wooden skewers. They are ready to grill or broil practically right out of the box—just bring them to room temperature first.
Smoked Bone-In Hams
Processed to Lobel's of New York specifications, each ham is steeped in a maple-sugar and spice brine for a week before it is double-smoked in small batches with applewood for 16 days. This time-honored method of hand-crafting yields a ham of incomparable tenderness and complex flavors.
Dry-Aged Shell Roasts
Also known as a strip loin roast, Lobel's Boneless Dry-Aged Shell Roast is an ideal selection for serving on a buffet because it is so easy to prepare, carve, and serve. The shell is one side of the short loin—the other side being the tenderloin. If this roast were cut into individual steaks, you'd have strip steaks. This is a roast that is meaty, juicy, and tender with a deliciously beefy flavor.
Something For Everyone: Casual Finger-Foods
A great basis for a more casual holiday party is a buffet of finger-foods—a table full of tasty appetizers perfectly sized to sate appetites one bite at a time. Here are some of our favorite ideas for building an appetizer buffet menu.
Lamb Lollies
Start with our Frenched Rack of Lamb, grill or broil just until medium-rare, then slice between the bones and present the lamb lollies on a platter. The Frenched bones make for a perfectly portable appetizer. Serve with a variety of dipping sauces.
Meatballs
Meatballs are a great single-serving treat that can be prepared ahead then warmed gently in the oven just before the party. Simply poke with toothpicks and set out on platters. They're little bites of comfort food that everyone will love. Try our recipe for Lamb and Bacon Meatballs for a twist on this classic family favorite.
Berkshire Pork Tenderloin
Our sweet, succulent Berkshire Pork Tenderloin is a highly versatile cut that can be roasted or broiled. You'll get outstanding results with a simple preparation that showcases the tenderloin's naturally sweet taste and delicate texture. After cooking, cube into bite-size pieces and spear each with a toothpick, then serve alongside a variety of dipping sauces.
Pretty at a Picture: Presentation Sets the Scene
Way back when, food presentation amounted to heaping an entrée and the sides onto a plate then plopping a spring of parsley in the middle of it all.
However, regardless of the style of party you plan to throw, an attractively arranged plate can add measurably to the appeal of a finely prepared meal and make the difference between a bland setting and one that has mouth-watering appeal. Likewise, a beautifully arranged table can really set the tone for your holiday party.
Setting the Stage
An elegant dinner involves the successful balance of food, presentation, and ambiance.
And, in terms of presentation, remember your plated meal sits in the environment of your tabletop. For an interesting perspective on your tabletop, bend down and take a look at it from eye level to get an idea of the architecture of your tabletop. Adding a bit of height—but not too much—can add visual excitement, dimension, and texture to your table setting—from flat to impressive.
Simple touches work—candlesticks, for example, from tall to short, from fat to skinny; mix and match them. Take a look at the height relationship of your water glasses to wine glasses. You can also give your tabletop a lift by placing napkins in a wine glass, rather than next to the plate. And, instead of one large centerpiece that can potentially obstruct your guests' vision across the table and interrupts the flow of conversation, try multiple smaller arrangements that are below the line of sight.
Also, consider the architecture of your plate. After your entrée takes center-of-the-plate position, serve one side dish in an individual serving container to lift your plate presentation as well. Try a timbale, risotto, a ragu of mushrooms, a sauce or other similar sides and complements in an individual, plate-friendly ramekin, or small gratin dish.
What's at Steak: Plate Presentation
Whether you arrange on a platter or individual plates, it's always important to slice meat across the grain. Grain is the pattern along which long muscle fibers align. Cutting with the grain allows the muscle fibers to remain long, resulting in a tough chew. Cutting against the grain cuts the muscle fiber bundles into short sections that are tender to chew.
Rather than serving a whole steak portion uncut, slice the steak and then fan the slices on the plate.
When preparing a large Porterhouse steak for presentation to more than one diner, it is common to first cut the filet portion and the strip portion from the T-shaped bone. Then the filet and strip are cut across the grain into slices. You can then reassemble with the bone or fan overlapping slices on the plate or platter.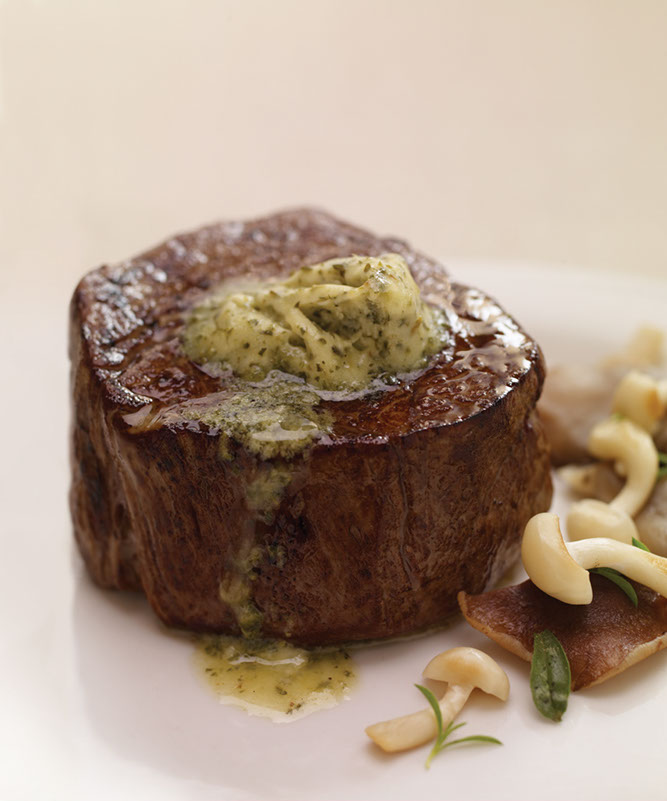 Topping it Off
Another way to add visual appeal and a flavor boost as well are compound butters. Rather than passing a tub of compound butter at table, put softened compound butter in a pastry bag fitted with a star tip. Pipe out stars or scrolls onto a parchment-lined cookie sheet and refrigerate and transfer to a plate before bringing them to the table or place on individual portions.
Dress it Up
In recent years, it's become popular to layer food one on top of the other to create a tower of food on the plate. This type of food architecture builds tabletop interest by giving height to the presentation. For example, start with a steak topped with a layer crispy fried potato wafers, which, in turn, is topped with a ragu of wild mushrooms, which is topped with a sprinkle of slivered Parmesan or a drizzle of béarnaise and a confetti of parsley.
Crown roasts, whole roasted poultry, and racks of lamb are dramatic on their own at table. But paper frills that cover exposed, protruding bones add an air of whimsy and practicality at the same time.
What style of at holiday party are you planning? Who's invited and what's the occasion? What's on the menu? Do you have any favorite party presentation tips or tricks?