Braise
How To: Braise
Braising is a moist-heat method of cooking large cuts of meat from pot roast to leg of lamb to ham. Slow cooking meat in liquid is one of the most common and most ancient cooking methods found everywhere on the globe, from Asia and Europe to North and South America.
The braising liquid is often what distinguishes braised dishes in one culture from another.
For example, soy-based brines infused with ginger, anise, scallions, and garlic in Chinese flavor pots are served sparingly with the finished dish. Rather, the braising liquid is saved and replenished to cook other meats, in a similar way that sourdough starters and yogurt cultures are used.
Most often, however, the braising liquid consists of wine, water, stock chosen to complement the main ingredient, or a combination of any or all of these. The braising liquid is the medium in which all of the flavors of all the ingredients mingle into mouth-filling richness. Generally served with the dish, the braising liquid can range from a thin, soup-like consistency to a rich sauce or gravy.
Braised dishes are ideal for serving comfort food on a large scale or consecutive meals during a busy week. Leftovers, if any, can be frozen in portions for easy on-the-go meals.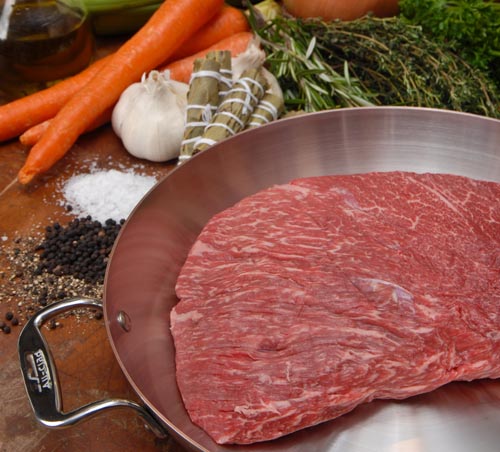 Step 1
Before you begin cooking.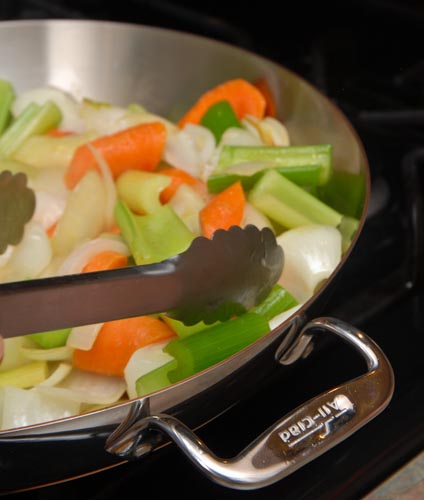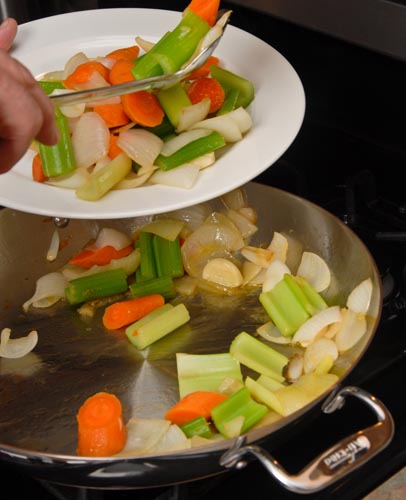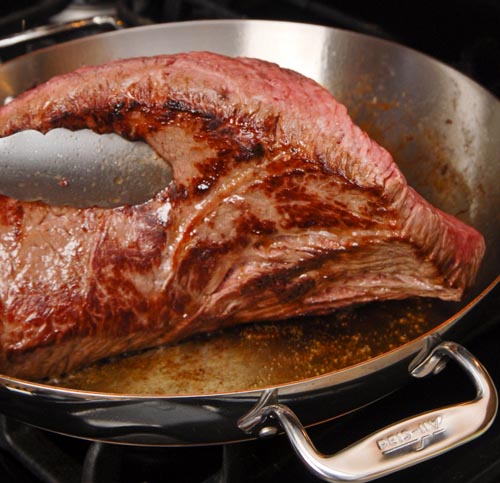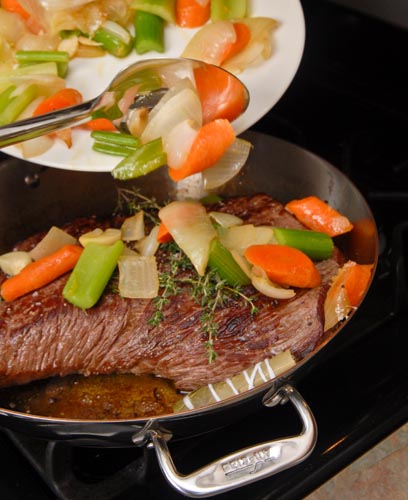 Step 5
Combining meat and vegetables.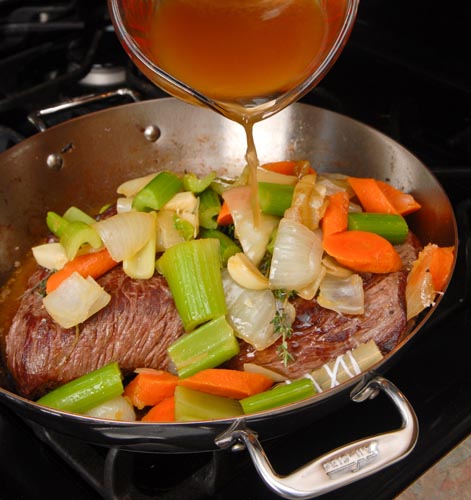 Step 6
Adding the braising liquid.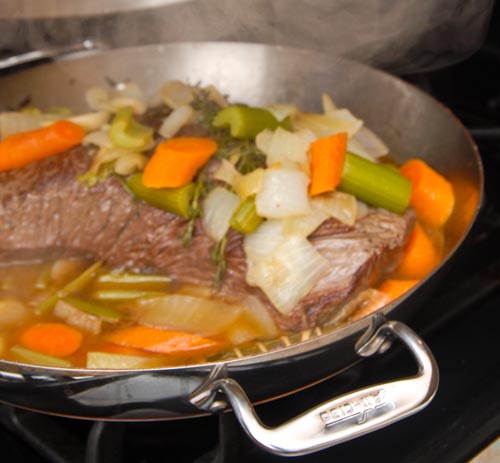 Step 7
Option 1: On the stove top.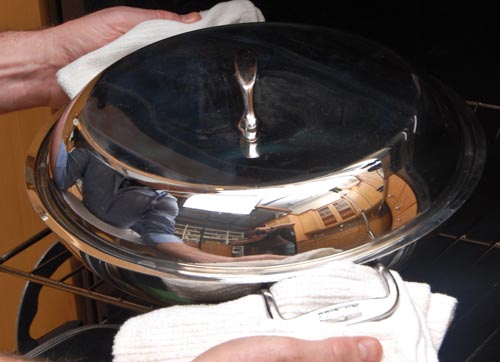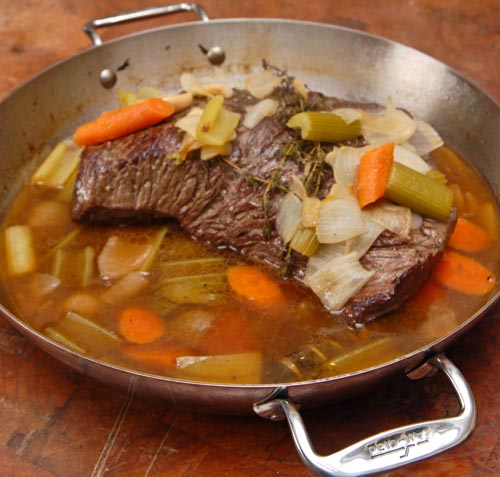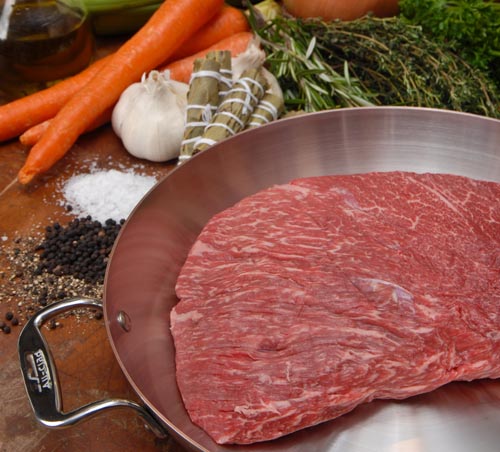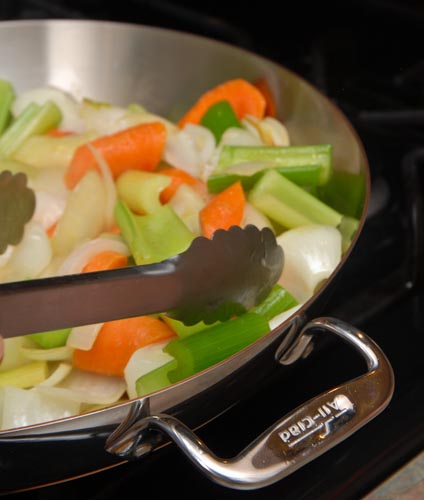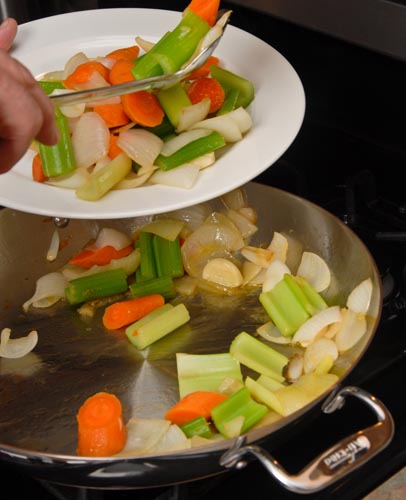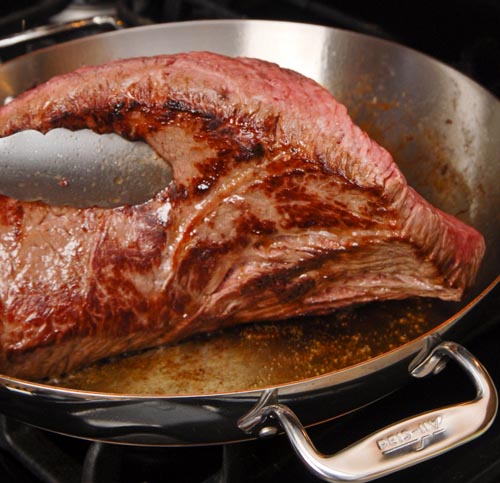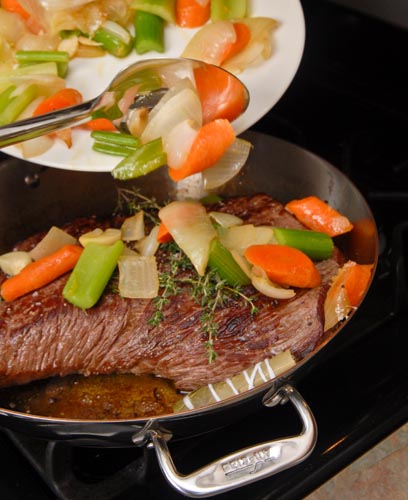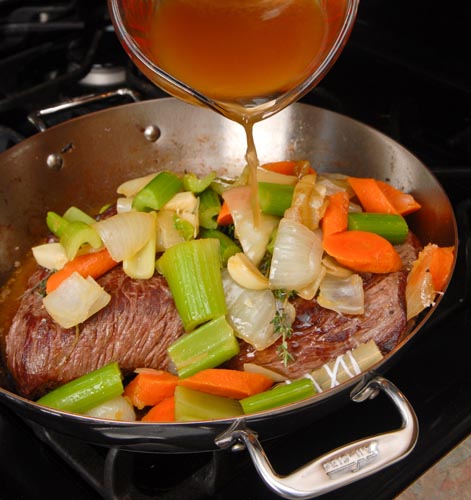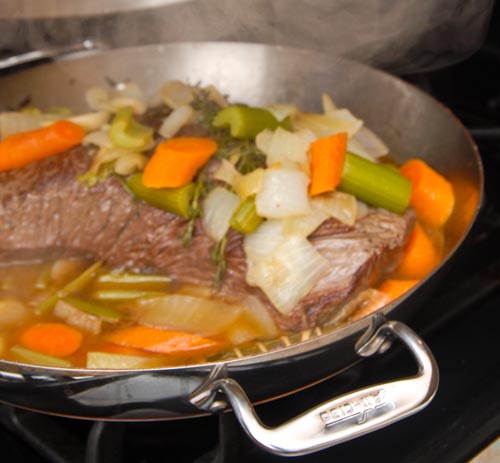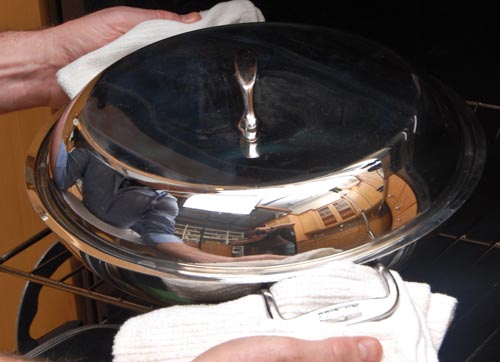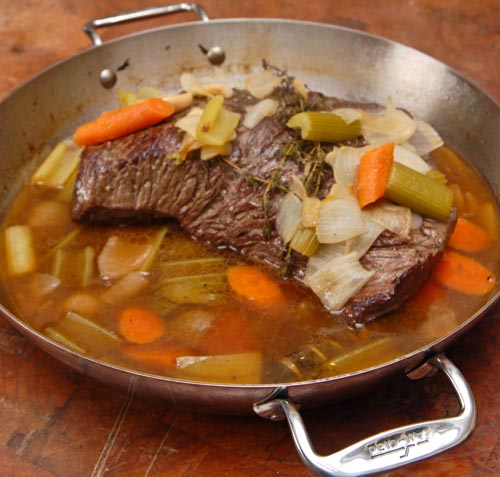 The Steps :
Step 1 Assemble all your ingredients before beginning to cook. Remove pot roast from refrigerator. Pat dry and let rest between paper towels. Allow it to come up to room temperature—about 1 hour, depending on its size.
Step 2 Heat oil over medium-high to high heat and sauté mirepoix (chopped onions, celery, and carrot) in the braising pan until golden brown.
Step 3 Remove the vegetables from the pot with a slotted spoon and set aside.
Step 4 Dust the pot roast with flour, salt, and pepper. Make sure there s about 2 tablespoons of oil in the braising pan. When the oil is hot, brown the roast about 4 to 5 minutes on each side, until golden brown on both sides.
Step 5 Remove the pot roast or lift it up as you add the browned vegetables to the bottom of the braising pan.
Step 6 Add your braising liquid to the pan (1 1/2 to 2 cups beef stock).
Step 7 Reduce heat, cover braising pan, and simmer about 3 hours.
Step 8 Optional: Instead of simmering on the stovetop, cover the braising pan and place in a pre-heated 350°F for about 3 hours.
Step 9 When the meat is done, remove pot roast from pan and place on a platter for slicing. (Optional: If the pan juices are too thin, thicken with a mixture of flour dissolved in hot pan juices in a ratio of 2:1.)